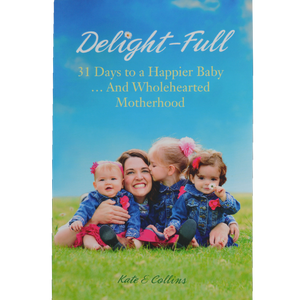 Delight-Full
Mothering is hard work. Completely worth it — invaluable, actually. But it's hard work. Mothers need encouragement and truth spoken into their lives as they raise their little ones. Delight-Full gives mothers a scriptural perspective on the whys and wherefores of motherhood and offers mothers the gift of hope.
Author Kate Collins speaks from personal experience, sharing stories that describe how parenting is so much more than tricycles and freezer cooking. Parenting is about reflecting God to our children. Parenting is giving our children a tangible, yet very fallible, glimpse of what God's love for them is made of. Delight-Full helps mothers wholeheartedly embrace the great gift and tasks of motherhood. This book is a perfect gift for a new mother or for daughters preparing for families, and it holds deep and eternal truths and tips that will help and encourage even the most veteran mother.
Delight-Full offers 31 bite-sized chapters containing warmhearted, real-life family stories and a scriptural take on just what the Lord can work in the fertile ground of a mother's heart. Each chapter ends with practical and encouraging notes, from one momma to another, to lift your spirits and help you turn your eyes to the Lord as you plant the seeds of God's Word in the hearts of your children.
210 pages, Paperback
---
We Also Recommend