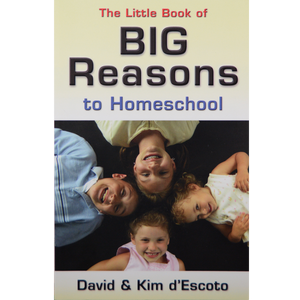 Little Book of Big Reasons to Homeschool*
Finally, a concise and compelling book about why homeschooling is a family's best option for educating its children. In a friendly, conversational tone, The Little Book of BIG Reasons to Homeschool addresses the benefits of home education to mind, body, and soul while answering tough questions about academics, socialization, spiritual training, and more. You'll get firsthand, real-world answers to concerns like:
Is homeschooling really effective?
Am I qualified to teach my children?
Aren't public schools OK?
Authors David and Kim d'Escoto were once skeptical about homeschooling themselves, never even considering the idea until their firstborn entered first grade. Today, their experience and insights on homeschooling will encourage anyone considering this wonderfully effective approach to educating their children. David and Kim d'Escoto have five children and have been homeschooling for nearly a decade. Drawing from his experience as an adult Bible teacher and church ministry leader, and her background in elementary education, they are committed to reaching out to families and spreading the homeschool vision. The d'Escotos live in Aurora, Illinois.
75 pages
---
We Also Recommend