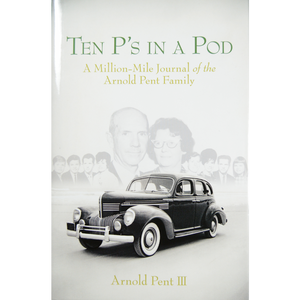 Ten P's in a Pod
A Million-Mile Journey of Family Discipleship, Home Education, and Gospel Evangelism
Imagine being a parent with a dream to live and serve the Lord as a unified family. Now, imagine that this dream includes placing eight children and your wife in a couple of four-door cars and embarking on a journey of home education, family discipleship, and gospel evangelism that will last more than one million miles. Imagine that, along the way, you collectively memorize the New Testament by heart, live by faith on pennies a day, battle truant officers, sing in hundreds of churches, and, in the process, share the kind of glorious experiences that knit the hearts of parents and children together for a lifetime.
This dream became a reality in the lives of a rare, visionary father named Arnold Pent II and his Family of eight very musical children. Together with his wife Persis, Arnold cast a unique vision for discipleship and evangelism which resulted in the Pents earning the title of "the world's most unusual family."
Ten P's in a Pod was compiled from the journals of Arnold Pent III, written when he was age seventeen to nineteen. Originally self-published in 1965, Ten P's in a Pod became something of an underground classic as Christian readers across the nation began to share by word of mouth with their friends this absolutely unique and inspiring adventure of family vision and gospel evangelism. Though the book ends in the early 1960s, the story of the Pent family continues to the present day, as the children of Arnold Pent II, now grandparents in their own right, continue to build by God's grace upon the remarkable heritage bequeathed to them by their father and mother, thus making the true legacy of Ten P's in a Pod one of multi-generational faithfulness and honor.
198 pages + family photos (hardcover)
Author: Arnold Pent III
---
We Also Recommend