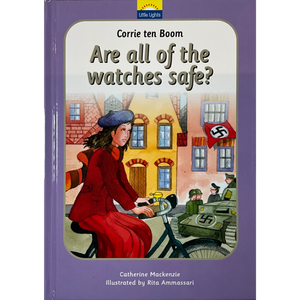 Corrie ten Boom
Are all of the Watches Safe?
The true story of Corrie ten Boom and the little Dutch watch shop.
The watches are ticking in the window, the clock chimes on the shelf, the little watch shop is busy as customers come and go. Corrie mends the watches and looks out for danger. Her friends are hiding in the secret room and she needs to make sure that they are safe. But as the aeroplanes fly overhead and war spreads across the land, Corrie learns that, even when you are really scared, you can always trust God. Whatever happens, he is the only one who can keep you safe, forever safe.
A Little Lights Book
By Catherine Mackenzie
Illustrated by Rita Ammassari
24 Pages, Hardcover
---
We Also Recommend