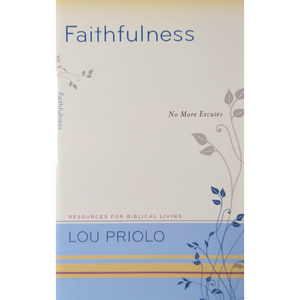 Faithfulness*
No More Excuses

Cultivating the mustard seed. You probably already know a little about faithfulness—it's obviously an important character trait in the Bible. But, while simple to understand, being a faithful friend, family member, or disciple can be a lot harder to develop. It not only requires time in the present to cultivate, but also affects the shape of our future—because the faithfulness that we show now determines the opportunities we'll receive to show faithfulness later.
Faithfulness is a critical pursuit for the Christian—but it often gets lost in the shuffle. We ask God to give us certain qualities and to change the way we are . . . but faithfulness is concerned with what we do! So how do we know whether we are faithful?
Lou Priolo defines three key elements of faithfulness, then goes on both to outline three tests for measuring faithfulness and to pinpoint the greatest obstacles to faithfulness. Learn how to leave excuses behind and do what God has entrusted you to do! 
Part of the Resources for Biblical Living Collection.
The Resources for Biblical Living booklet series addresses a wide range of practical life issues in a straightforward, down-to-earth, and most of all, biblical manner.
Lou Priolo is the director of biblical counseling at Valleydale Church in Birmingham, Alabama, and the founder and president of Competent to Counsel International. A full-time biblical counselor since 1985, Lou is a fellow of the Association of Certified Biblical Counselors.
31 pages
---
We Also Recommend