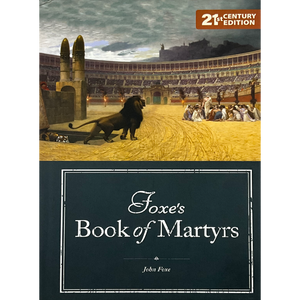 Foxe's Book of Martyrs
A Christian family library of only four books would have to include an edition of Foxe's Book of Martyrs. This is the history of God's family, the church of the living Christ. To produce this highly readable edition, the editors have selected the most significant, informative, and essential testimonies available of true Christian martyrs throughout 2,000 years of church history.
Unlike other editions of Foxe's Book of Martyrs, the present volume brings the reader up to date, covering the stories of the martyred Covenanters of the 17th century, the intrepid 19th century missionaries, and those who have died at the hands of Communists and Muslims in recent centuries. This extended "cloud of witnesses" surrounding believers today includes the stories of the Two Margarets, James Guthrie, John Williams, the Pigott family, John Coleridge Patteson, Vanya of Moldova, Choo Kichul and Sohn Yangoon of Korea, Wang Zhiming of China, Haik Hovsepian of Iran, and Necati Aydin of Turkey. Every Christian in the world should read these stories.
Recommended for readers over 12 years of age.
By John Foxe
379 Pages, Hardcover
---
We Also Recommend