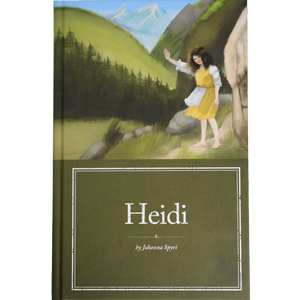 Heidi
Heidi is one of the most popular children's books ever published, second only to Pinocchio—with over 50 million copies in print around the world (in at least 50 languages). Heidi is a delightful read. It is one of the most heartwarming Christian stories of all time for children. This is a book filled with joy, gratefulness, and praise to God. It is an ideal story for the Christian family, complete with vivid descriptions of sin, rebellion, God's mercy, forgiveness, reconciliation, and faith. Young readers will learn about prayer, the purpose of trials, the sovereignty of God, and the goodness of God.
Over the years, much of the Christian content was removed from modern English editions of Heidi. The goal of this landmark republication was to restore all of the original Christian content, some of which was restored from the original German edition of 1881.
Enjoy the Christian heritage of this story, including numerous hymns and prayers contained in the original edition
Read Scripture verses which tie directly into the story
Share with your children key lessons from each chapter
Contains illustrations.
By Johanna Spyri
218 Pages, Hardcover
---
We Also Recommend