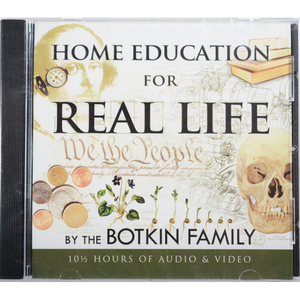 Home Education for Real Life
Teaching Your Children to Thrive in the 21st Century.
If you've ever wondered how in the world you are going to teach your children everything they need to know for Christian life and leadership in the real world, this 7-part DVD series from the Botkin family might be the dose of hope, relief, and encouragement you need. Featuring veteran homeschoolers Geoffrey and Victoria and all seven of their grown children, Home Education for Real Life is a life-changing resource for the whole family!
Ready for What?
What We Must Educate Our Children to Be and Do.
Ready to Think and Communicate:
How to Have Something to Say and How to Say it.
Ready to Lead Culture:
How to Take Dominion in the Arts Without the Arts Taking Dominion of You.
Ready to Take Dominion of the Earth:
Studying Science, Math, Engineering, Medicine, Computer Sciences, Agriculture, and Construction.
Ready to Lead in the Gates:
Studying Economics, Law, Political Science, Military Studies, Geography, and History.
Ready for Anything:
Figuring Out Vocation, Gifts, and Real Life Skills.
Bonus:
Final Questions and Answers.
By the Botkin family
10 hours and 30 min. of audio & video
The sessions are on one disc in both MP3 and MP4 format. The Bonus Q&A session is MP3 audio format only. This was originally done as a webinar and the video is slides with pictures and text not a video of them speaking.
---
We Also Recommend