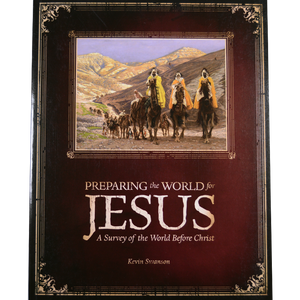 Preparing the World for Jesus
A Survey of the World Before Christ

There is no other way to read history. For the Christian, the Lord Jesus Christ must be the pivot point in the history of this world and in all things, preeminent. After studying history written from a secular perspective, the student is left with the conclusion that man is great, and that Jesus Christ is of no account. This false worldview is thoroughly demolished in this Christian history of the world.
This history presents an honest, no-holds-barred, shocking view of the hopeless condition of the world before the coming of the Messiah of God. Darkness reigned over the earth, and then the Light came. Preparing the World for Jesus weaves the revelation of the Old Testament into the archaeology, and the secular histories and chronicles of the great empires that rose and fell throughout the ancient world. Amidst the abject failures, the tragedies, the futilities, and the despair of the pre-Christ world, God sends glimmers of hope along the way.
This is the first in the series of a world history that sets Jesus Christ, the very Son of God, at the center; sovereign, preeminent, and supremely glorious. It is the prequel to Taking the World for Jesus.
Jesus is the Desire of the Nations, and now, the Hope of all Nations.
"For thus says the LORD of hosts: 'Once more. . . I will shake heaven and earth, the sea and dry land; and I will shake all nations, and they shall come to the Desire of All Nations, and I will fill this temple with glory,' says the Lord of hosts." (Haggai 2:6-7)
Features include:
Amazing, up-to-date archaeological evidence for Old Testament records
Maps and pictures identifying the places covered in the narrative
Visual timelines for every chapter
Prayers of worship and praise to God
Paperback. 476 Pages
Check out other items from Generations grade 9 curriculum pack:
---
We Also Recommend