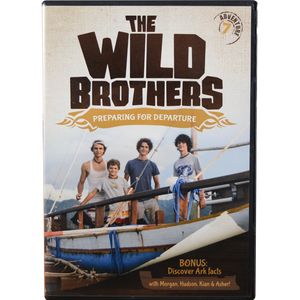 Wild Brothers #7: Preparing for Departure*
 With their return to the United States approaching, the four Wild brothers set off on another thrilling adventure ... This time they are building a wooden boat to sail halfway across the world!
Using simple tools and resources, Dad and the boys begin work on a Polynesian double canoe (commonly referred to as a catamaran) to navigate the family back to the USA from Papua, Indonesia. With help from other missionaries and a few superstitious locals, the whole family works to construct a watertight wooden vessel. However, big problems must be overcome. The parallels to Noah, his sons, and the huge Ark they had to build spur the Wilds along to complete their boat and prepare for the journey.
30 min.
Discussion guide included.
---
We Also Recommend