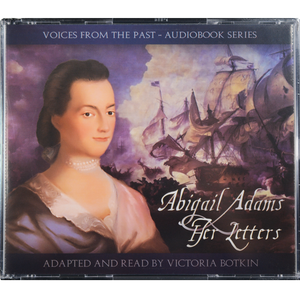 Abigail Adams: Her Letters
A Colonial Woman's Eyewitness Account of America's Founding.
The letters of Abigail Adams bear faithful and moving witness to one of the greatest epochs of world history: the American War for Independence. They also attest to the remarkable life of a wise and witty New England woman who was her husband's chief adviser and war correspondent, who raised and educated four children, managed a farm on a war-time budget, and served her country as its ambassadress and First Lady. This narrative takes the listener from the bustling hub of Boston, to Penn's Hill, where Abigail stood with her son and watched the slaughter of her people and Charleston going up in flames, to the glittering courts of Europe, where she came face to face with the perpetrators of these crimes, King George III himself.
America has a remarkable, but largely unknown, legacy of strong, intelligent, Christian womanhood. In "Voices from the Past," Victoria Botkin will take you back to original source documents, enhanced by period music, breathing life into the very words of real heroines of American history.
Editing & Music: Anna Sofia Botkin
Sound Effects: Lucas Botkin
Cover Art: Benjamin Blythe
Background Art: de Loutherbourg
3 CDs
2 hours 41 min.
---
We Also Recommend