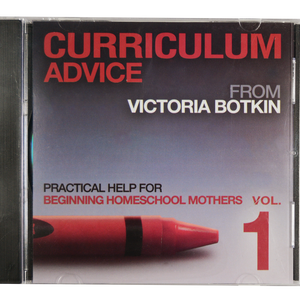 Curriculum Advice 1 by Victoria Botkin
Practical help for beginning homeschool mothers
Homeschooling. Lots of families have done it. But can you do it? How hard is it? What does it actually look like? How do I know if I'm on the right track for success?
Victoria Botkin has seven well-educated children who love home education and who plan to continue the tradition when they have children of their own. This inspiring home educator will tell you how you can teach your child at home successfully, inexpensively, calmly, and with the powerful confidence that you are doing the right thing before God. Her curriculum advice will motivate you and change your life.
Young mothers will not only gain countless practical ideas, but confidence, enthusiasm, and a vision for the importance of their labors. Learn about:
Developing the right attitude
Choosing materials
Choosing curriculum
Inspiring them with creativity
Turning your home into an incubator of curiosity, exploration and discovery
And much more!
Vol. 1 ages 0-8
68 min.
---
We Also Recommend