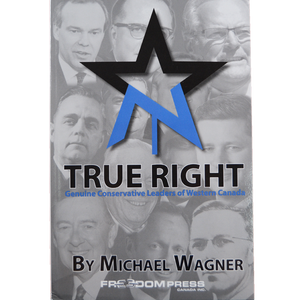 True Right*
Genuine Conservative Leaders of Western Canada
Canadian conservatives need to know about the past heroes of their movement. They also need to know about the thought leaders who inspired many to understand and act upon the truths that conservatism represents. Out west, at least, many Canadians have favoured limited government, free enterprise and traditional morality going back many decades. This is the perspective of genuine conservatism. And it is a heritage that needs to be understood and embraced as the ideological foundation of true Canadian conservatism for current and future generations.
A central purpose of this book is to highlight western Canadian conservative leaders, their perspectives and accomplishments, as a basis for encouraging and inspiring Canadians to embrace this legacy of genuine conservatism. As well, a basic outline of "Byfield conservatism" is sketched, followed by a more detailed consideration of the political thought of Link and Ted Byfield. Byfield conservatism is a true and indigenous Canadian conservatism. It is this form of conservatism that will need to thrive if Canada is to be rescued from its current destructive course.
Dr. Michael Wagner is the author of the Christian Citizenship Guide, Leaving God Behind, Standing on Guard for Thee, Alberta: Separatism Then and Now, No Other Option, and The Anglosphere's Broken Covenant. He has a PhD in Political Science from the University of Alberta and lives in Edmonton with his wife and eleven children.
128 pages
---
We Also Recommend